Secondary Schools Cross Country Relays : 2003
The Secondary Schools Cross Country Relays were held at Karori Park on Wednesday the 7th of May in very good conditions.
As was the case the previous year, the senior boys team was affected by the withdrawal of one of our better athletes due to an accident suffered during the last weekend of the holidays. This however gave someone else the opportunity to compete in the Senior A team. The senior team was challenged a little in the mid stages of the race but strong runs from Kyle Rosevear and Alex Olssen brought the team home first a minute in front of Tawa College. The victory was set up by the first lap run of Matthew Prosser, whose time of 6:09 was the fastest lap of the day and only 4 seconds outside Ben Ruthe's course record.
The team was: Matthew Prosser, Axel Tie, Patrick Rosevear, Gudisa Dehme, Kyle Rosevear and Alex Olssen.
In the Senior B team there were particularly strong runs from Matthew Singleton and Oliver Davie. This allied with the absence of Lyndon McGaughran and Ben Hawkes promises much for the desired depth of the team.
In 2002 this year's Under 16 group as Year Nine students could only manage fourth place at the Karori Relays. This year the team was a lot stronger and won by one minute from Wanganui Collegiate. The team was ably led out by Terefe Ejigu whose time of 6:32 broke the record previously held by Matthew Prosser by two seconds.
The team was Terefe Ejigu, Zaan Janse, Shaun Stonnell, Josh Notman, Andrew Crowley and Roger Wilson.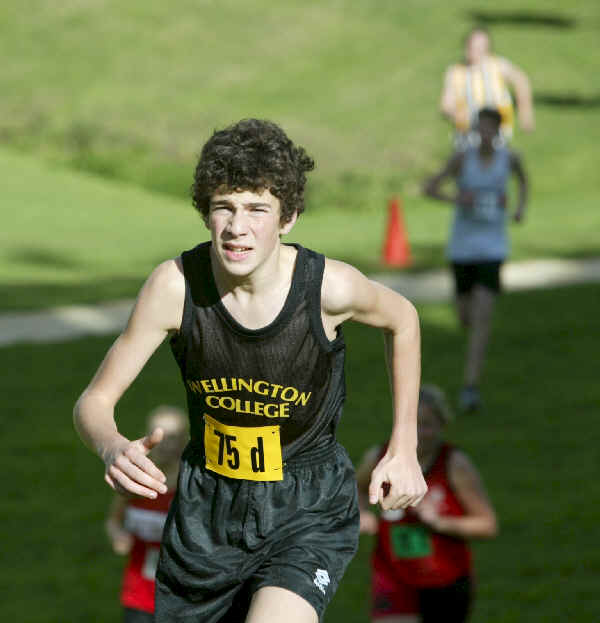 The Year Nine Cross Country was held in abysmal conditions on the Friday prior to the relays and revealed a real depth of talent in the age group. This was borne out in the Cross Country Relays. The team was absolutely outstanding, winning in a new record time of 45 mins 15 secs (only four minutes behind the winning senior time and two minutes inside the previous record). The team was led out by Brendon Blacklaws who set a new lap record of 7:09, breaking the previous record of 7:15, set by Matthew Prosser, by 6 seconds. Daniel Robertson who ran the anchor leg also ran an outstanding time of 7:14, also breaking the previous record. But this team is not a two man show as the runs from the other athletes were also of an extremely high standard.
The team was Brendon Blacklaws, Sam Peters, Luke Fiso, Andrew Underwood, Gareth James and Daniel Robertson.